etanji Brown Jackson has been confirmed Thursday to the Supreme Court of the United States, representing a major victory for President Joe Biden and the Democratic Party ahead of the 2022 midterm elections.
Biden's falling job approval numbers and stalled legislative agenda, notably his signature Build Back Better bill, have plagued the party in recent months. But Jackson could provide a boost as Democrats aim to keep their narrow advantages in Congress during this year's races.
The historic nomination was approved by the Senate on Thursday in a 53-to-47 vote
"I do think it will be a shot in the arm for the president and for the Democratic Party because it's a reminder that elections have consequences," Antjuan Seawright, a South Carolina-based Democratic strategist, told Newsweek about Jackson's confirmation. "When you show up to vote, you can change the course of history."
Polls show Jackson is one of the most popular Supreme Court nominees in years. The federal judge entered her confirmation hearings last month with a higher level of support than former President Donald Trump's three SCOTUS appointees Neil Gorsuch, Brett Kavanaugh and Amy Coney Barrett.
A focus group of Democratic voters conducted by HIT Strategies last month found enthusiasm among the party's voters. Roshni Nedungadi, the company's founding partner, said in a statement that Jackson "has the potential to really excite Democratic voters this election year."
A recent poll from Marquette University also showed Black and Hispanic voters, key constituencies in the Democratic Party, were enthusiastic about Jackson's nomination. About 86 percent of Black respondents and 76 percent of Hispanic respondents backed the federal judge.
Black voters essentially delivered Biden the Democratic nomination in the 2020 presidential race but have somewhat soured on the president since he entered office.
Jackson will be the first Black woman to serve on the Supreme Court in its 233-year history. She will fill the vacancy left by retiring Associate Justice Stephen Breyer, who will step down at the end of the current term running through June.
"Delay does not mean denied," Seawright said. "For every Black woman, for every little Black girl who ever dreamed that they can accomplish things like being pointed to the highest court in the land, this is proof that it can be possible."
During her confirmation hearings last month, Jackson discussed her parents' experience attending segregated schools in Miami.
"My parents taught me that, unlike the many barriers that they had had to face growing up, my path was clearer, such that if I worked hard and believed in myself, in America I could do anything or be anything I wanted to be," Jackson said.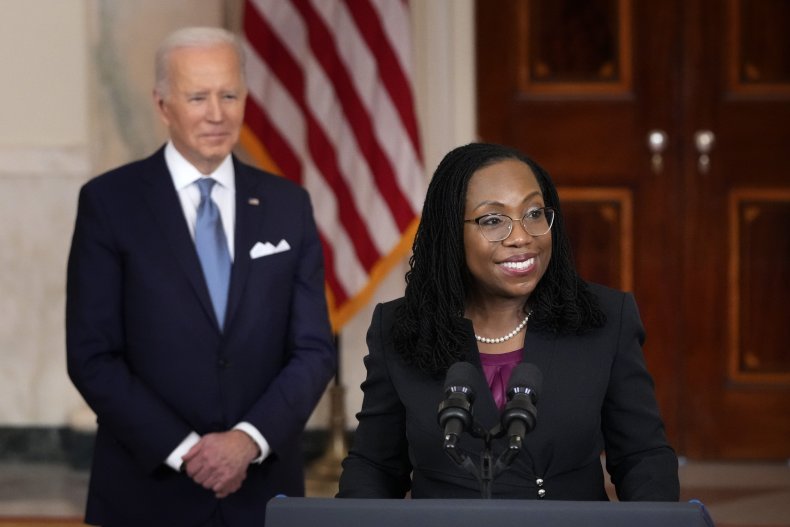 Republicans also used Jackson's nomination to boost some potential midterm messaging.
Conservative members of the Senate Judiciary Committee, especially the four senators rumored to be potential contenders for the Republican nomination in 2024, focused their time during her hearings talking about hot-button issues like critical race theory and gender identity. Many Republicans also questioned Jackson on her past sentences on child pornography cases, painting her as too lenient toward defendants—an accusation the judged vehemently denied.