Former Trump Inaugural Chairman Thomas Barrack has been arrested on federal charges in Los Angeles.
In a news release, the Justice Department confirmed that the longtime Trump ally was arrested in California on Tuesday morning. He has been accused of acting and conspiring to act as agents of the United Arab Emirates (UAE) between April of 2016 and April of 2018.
Federal officials believe that Barrack and two others made efforts to advance the interest of the UAE by influencing the foreign policy positions of then-U.S. presidential candidate Donald Trump's campaign during the 2016 election, and subsequently, of the incoming administration.
Matthew Grimes, 27, of Aspen, Colorado, and UAE national Rashid Sultan Rashid Al Malik Alshahhi, 43, were also charged in the seven-count indictment.
Only Barrack and Grimes have been arrested. Alshahhi remains at large.
Barrack was additionally charged with obstruction of justice and making multiple false statement in an interview with federal agents in June of 2019.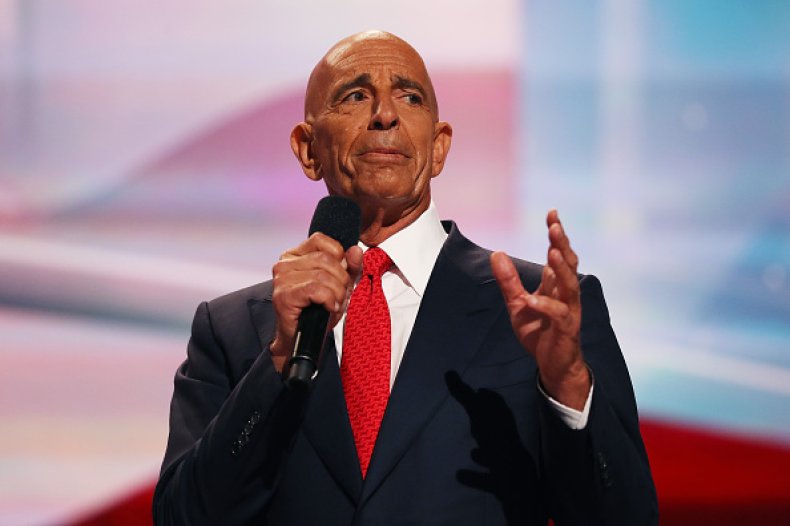 Longtime Trump ally Thomas Barrack was arrested in Los Angeles early Tuesday. Above, Barrack delivers a speech on the fourth day of the Republican National Convention on July 21, 2016, in Cleveland, Ohio.JOHN MOORE/GETTY
The Justice Department said the three accused "repeatedly acted at the direction of UAE officials to influence the foreign policy positions of the incoming administration in favor of UAE interests" while Trump held office. In one instance, Barrack advised senior UAE officials to create a "wish list" of U.S. foreign policy items the UAE wanted to accomplish over the four years of Trump's presidency.
According to court documents, Barrack began informally advising senior U.S. government officials on issues related to foreign policy in the Middle East in January of 2017.
Federal authorities allege that Barrack provided intelligence to the UAE and that he and his co-defendants agreed to promote the candidacy of an individual favored by senior UAE officials for the position of U.S. ambassador to UAE in March of 2017.
"Barrack is alleged to have abused his access to government officials to illegally advance the interests of foreign governments," Assistant Director Calvin Shivers of the FBI's Criminal Investigative Division said in a statement. "The FBI stands in concert with our external partners to ensure all who seek to wield illegal influence are charged for their crimes."
"The conduct alleged in the indictment is nothing short of a betrayal of those officials in the United States, including the former President," Acting Assistant Attorney General Mark Lesko of the Justice Department's National Security Division added.
"Through this indictment, we are putting everyone—regardless of their wealth or perceived political power—on notice that the Department of Justice will enforce the prohibition of this sort of undisclosed foreign influence."
Barrack also voluntarily met with FBI agents in June of 2019 and allegedly made numerous false statements, including falsely denying his involvement in advancing the interests of the UAE.
Barrack, a private equity investor, found the large private equity firm Colony Capital in 1991. He stepped down as the company's CEO last year and resigned as the executive chairman of the firm in April of this year.
He and Grimes are set to be arraigned Tuesday afternoon in the Central District of California.
Newsweek reached out to the Department of Justice for further comment but did not hear back before publication.