Ukraine's Western sponsors have inadvertently ended up providing military hardware to Russia as more and more armored vehicles and weaponry originally supplied by the US and its allies to the Kiev regime are captured by Moscow.
Russian Minister of Defense Sergei Shoigu personally inspected a Sweden-made 
CV-90
 infantry fighting vehicle that was seized by Russian troops in the Ukrainian conflict zone this week.
The armored vehicle, touted as one of the most advanced of its class, ended up being disabled by a rocket fired from an RPG-7 – a weapon adopted back in the early 1960s – and promptly seized by Russian troops after what was left of the vehicle's crew beat a hasty retreat.
Moscow's Defense Ministry noted in a statement issued on Friday that the captured CV-90 was but "one of the many" armored vehicles seized by Russian soldiers from the forces of the Kiev regime.
Having lost much of its Soviet-era arsenal in the ongoing conflict and with its domestic military-industrial capabilities woefully lacking, Ukraine became increasingly dependent on the military hardware provided by the NATO countries.
Initially providing Kiev with the leftovers from the Warsaw Pact's armories, Western powers soon upped the ante and started providing Ukraine with an assortment of US and European armored vehicles, air defense and artillery systems, many of which eventually 
ended up in Russia's hands
.
Which Weapons Has Russia Captured in Ukraine?
First reports about Western armaments and military hardware being captured by Russian troops started emerging mere months after the Ukrainian conflict's escalation in February 2022.
In June 2022, French politician Regis de Castelnau lamented that two of the 
Caesar self-propelled howitzers
 supplied to Kiev by France were 
captured by Russian forces
.
His claim was promptly confirmed by one of Russia's top defense contractors, Uralvagonzavod, which admitted on social media that they got their hands on the howitzers and asked de Castelnau to convey their thanks to French President Emmanuel Macron for this windfall.
Russian soldiers wielding Western portable anti-tank weapons – such as Javelin and NLAW – seized from Ukrainian forces have also become a fairly common occurrence in the conflict zone.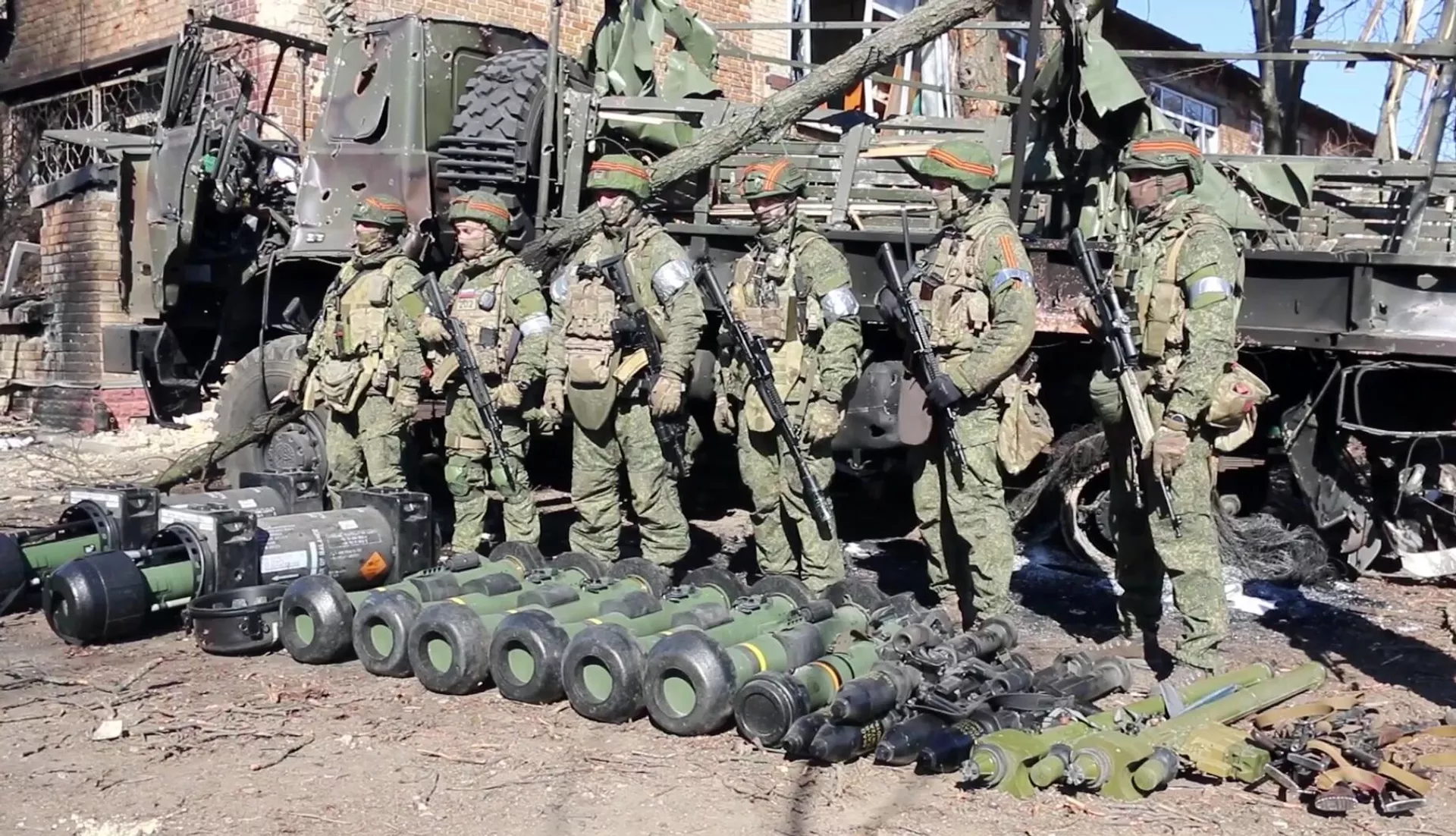 In this handout video grab released by the Russian Defence Ministry, Russian servicemen are pictured by military equipment captured by Russian troops during Russia's military operation in Ukraine, near the village of Huta-Mezhyhirska, in Ukraine
© Russian Defence Ministry
Earlier this month, a military correspondent reported that Russian troops who used such armaments actually preferred the NLAW due to the Javelin's allegedly poor performance under adverse weather conditions.
That same correspondent also said that he witnessed at least one instance of Russian troops wielding a captured M2 Browning machine gun.
The reports of captured Western armaments, however, became much more numerous following the launch of Kiev's so-called "counteroffensive" in June.
The architects of this military operation were counting on large quantities of NATO armored vehicles – primarily the German Leopard main battle tanks and the US Bradley infantry fighting vehicles – which were supposed to help Ukrainian forces punch through Russian defenses.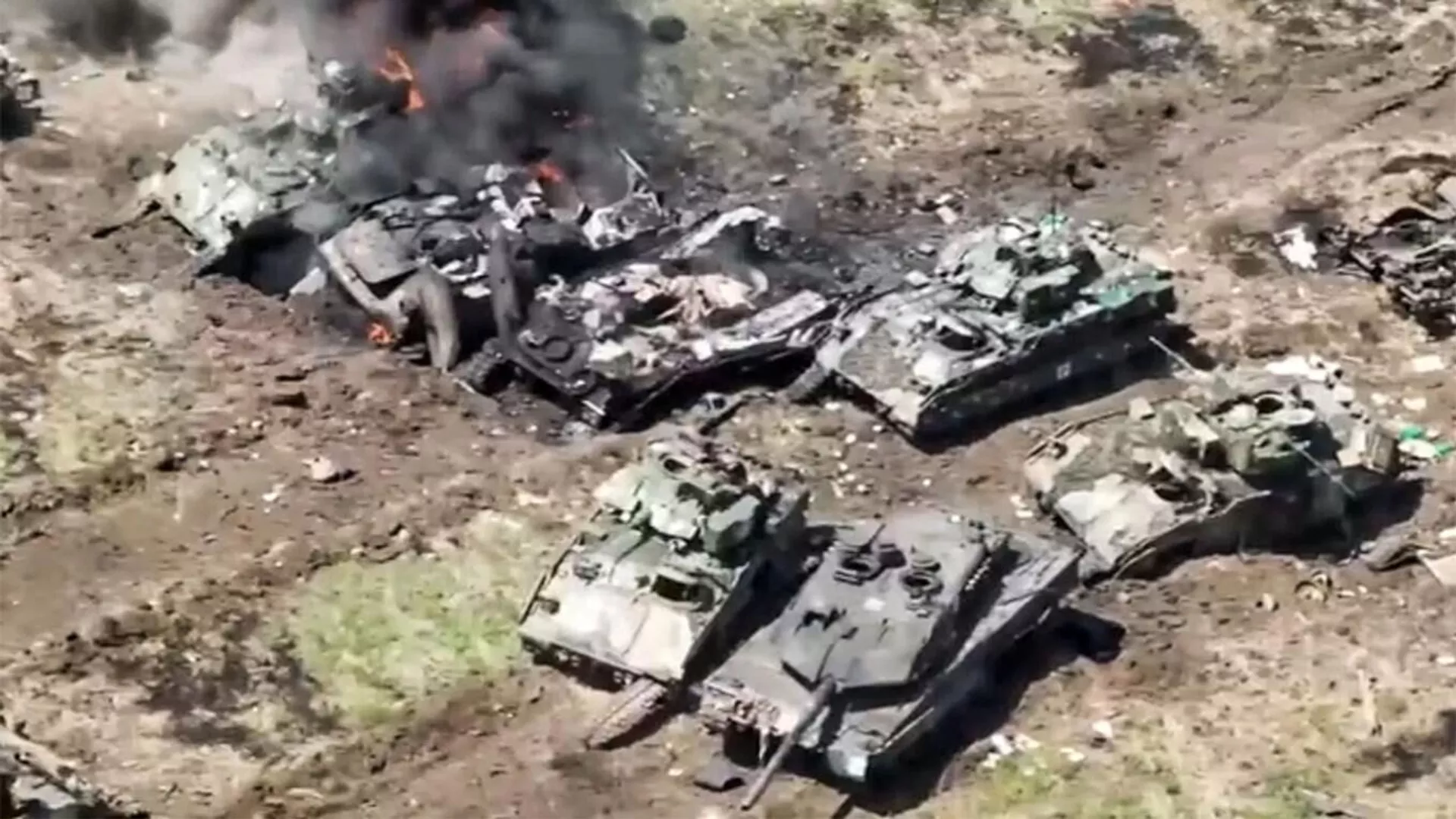 Leopard 2 and Bradley pictured among destroyed and damaged Ukrainian vehicles. Screenshot of Russian Defense Ministry video.
© Photo : Screenshot / Russian Defense Ministry video
While the "counteroffensive" ended up turning into a complete disaster, some of the Western military gear involved in it did end up making it past the Russian lines, though probably not in the way the Ukrainian military leadership intended.
In June 2023, Russia's Defense Ministry stated that several Leopard tanks and Bradley infantry fighting vehicles were captured in the Zaporozhye region by Russian forces.
The ministry noted at the time that some of the captured armored vehicles had intact engines, suggesting that the crews simply abandoned them in order to flee for their lives.
Also in June, another video shared by the Russian Ministry of Defense revealed the inglorious fate of a French AMX-10 RC wheeled armored fighting vehicle provided to Kiev by Paris, which was abandoned by the retreating Ukrainian forces near the township of Novodonetskoye.
About a month later, another such vehicle was captured by Russian forces in Zaporozhye, with local authorities reporting that the 
AMX-10 RC
 was seized in "practically ideal condition" and that it was going to be shipped to Russian military-industrial experts for further study.
In July, a video emerged on social media showing a team of Russian soldiers standing next to a largely intact Bradley infantry fighting vehicle.
While the soldiers mockingly thank Ukrainian President Zelensky for this "gift," one of them can be heard saying that they are going to bring in a tractor unit and tow the Bradley back to their base.
Which Western Missiles Has Russia Captured?
The Russian forces' efforts to capture Western weaponry operated by Kiev are not limited to small arms and armored vehicles, as demonstrated by servicemen from the BARS-11 and the Tsar's Wolves volunteer units who 
managed to seize
 an almost intact British 
Storm Shadow
 cruise missile.
Retired Russian military intelligence officer Anatoliy Matviychuk also made a curios remark during an interview with Sputnik last month when he, among other things, spoke about the increased effectiveness of Russian air defense systems.
Having mentioned that the 
Russian Pantsir missile
 systems became capable of 
"superbly" intercepting
 the HIMARS rockets, Matviychuk suggested that it became possible after Russian engineers found the latter weapon's "weak spot" after studying "the HIMARS [rockets] we've captured."
The destruction and seizure of the Western military hardware operated by Ukrainian troops is actively encouraged by the Russian authorities who provide sizeable monetary rewards to soldiers who accomplish such tasks.