The family of 19th Century prime minister William Gladstone will travel to the Caribbean to apologise for the part an ancestor played in the slave trade.
William was the son of John Gladstone, who was one of the largest slave owners in the British West Indies.
A joint statement by descendants said they believed his actions amounted to "a crime against humanity".
They said they hoped to "make a better future".
Charlie Gladstone, whose family's ancestral home is Hawarden estate in north Wales, is due to travel to Guyana, South America, with five other family members to make an apology for John's ownership of Africans, according to The Observer, which first reported the story.
They will travel from 24 to 28 August, which coincides with the 200th anniversary of the 1823 rebellion in Demerara, a British colony that later became part of Guyana.
It started on one of Gladstone's plantations – some historians argue its violent suppression had a role in bringing an end to slavery.
The statement, by two generations of descendants, said John Gladstone "held the people of Guyana in slavery and was highly instrumental in bringing indentured labour to Guyana too".
"We believe that his actions amounted to a crime against humanity and wish to apologise to the people of Guyana. We know that we can't change the past, but we believe that we can make a better future."
The Gladstone family plan to make their official apology at the opening of the University of Guyana's International Institute for Migration and Diaspora Studies, which it said it hopes to help fund with a grant of £100,000.
"For us this isn't just about money though. It is about acknowledging that the slavery still has a massive impact on many people's health and wider socio-economic status across the world," the statement said.
Rob Gladstone, Charlie's brother, called on the UK government to begin "reparative justice" by apologising for slavery within the British Empire.
The Atlantic slave trade saw millions of Africans enslaved and forced to work, especially on plantations in the Caribbean and Americas, for centuries from about 1500.
The British government and the monarchy were prominent participants in the trade, alongside other European nations.
Britain also had a key role in ending the trade through Parliament's passage of a law to abolish slavery in 1833.
Asked at Prime Minister's Questions in April by Labour MP Bell Ribeiro-Addy whether he would offer a "full and meaningful apology", the prime minister said he would not, and that it was important to "have a society that is inclusive and tolerant from people from all backgrounds".
"Trying to unpick our history is not the right way forward and is not something we will focus our energies on," he said.
John Gladstone was a Scottish merchant who made a fortune as a Demerara sugar-planter and had hundreds of enslaved people working in plantations in the decade before emancipation.
After slavery was abolished in 1833, John received the largest compensation payment made by the Slave Compensation Commission – about £93,000, the modern equivalent of about £10m.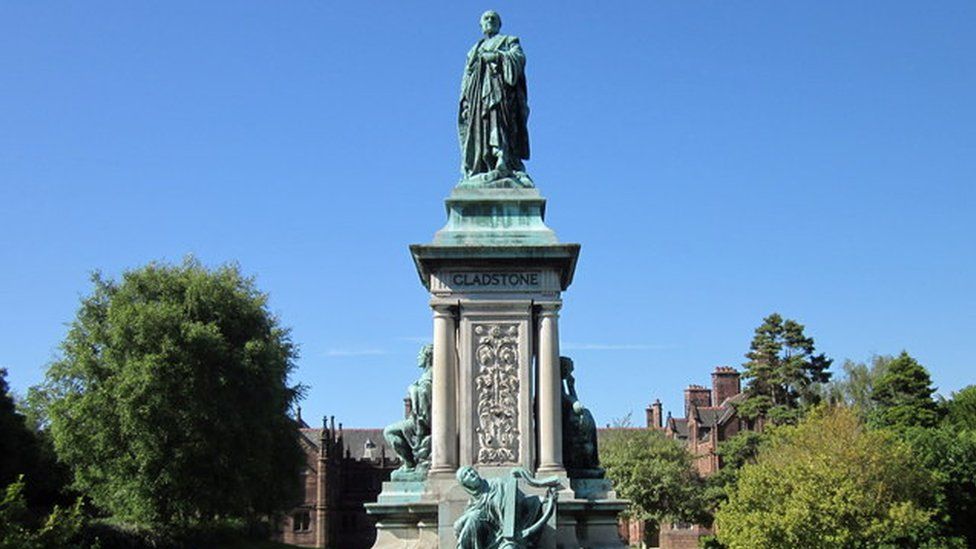 In 1831, William Gladstone, who was Liberal prime minister on four occasions in the 19th Century, used his first Commons speech to argue in favour of compensation for slave owners.
But by 1850, his family said he was a "changed man", with the former leader describing slavery as "by far the foulest crime that taints the history of mankind".
Charlie Gladstone told The Observer: "John Gladstone committed crimes against humanity. That is absolutely clear.
"The best that we can do is try to make the world a better place and one of the first things is to make that apology for him.
"He was a vile man. He was greedy and domineering. We have no excuses for him."